About Trinidad
You'll discover lots to enjoy in Trinidad.
Stroll through our picturesque, historic whaling town surrounded by commanding views of ocean and forest. Visit Trinidad's very own harbor for sportfishing, kayaking or just walking on the pier. Breathe in the cleanest air you'll find on this coast. That's what attracted Humboldt State University's Marine Laboratory to Trinidad. It is open to the public – kids and adults love the tide pool 'touch' tanks. Chefs want to live here in paradise, too – Trinidad has wonderful casual to gourmet dining, outdoor and indoor. Unique shops, an art gallery and a summer artisans market offer local and unusual wares.
Pristine beaches, redwood forests and animal watching
Best of all, right here in town and within a radius of ten miles you'll find... eleven spectacular beaches and lagoons for seclusion or socializing, thousands of acres of redwoods, forests and public parks for hiking, biking, picnics and just relaxing. Redwood National and State Parks are only 20 miles north. Wildlife abounds...elk herds, migrating whales, colonies of seals or sea lions, and thousands of species of birds who live on the shore and in the forests or pass through on their yearly migrations.
Trinidad offers one of the most pristine and spectacular sections of the California coast, and has been established as a California Coastal National Monument Gateway. Known as the "The Crown Jewel" of the north coast, Trinidad's views are unique—with redwood covered ridges carpeting the coastal cliffs, and majestic sea stacks decorating the sea below. You'll find abundant opportunities for tide-pooling and exploring offshore rocks, islands and discovering wildlife.
Hike, surf, fish, kayak, beachcomb, and don't miss the tidepools!
Excellent hiking trails abound in Trinidad. Coastal trails include: Axel Lindgren Memorial Trail, Elk Head, Parker Creek and Trinidad Head trails. Trinidad Head trail climbs 350 feet and offers amazing views of the coastline with perfect lookouts for whale watching.
Trinidad's beaches are treasures, offering great surfing and kayaking, as well as miles of unspoiled, natural sites for picnicking, beachcombing, agate hunting and visiting tide pools. From North to South, you can explore these beaches: Big Lagoon County Park, Patrick's Point State Park, Trinidad State Beach, Luffenholtz Beach, Houda Point, Moonstone Beach and Clam Beach.
The rich waters around Trinidad make it a mecca for recreational fishing and it has its own commercial fishing fleet. Fishing focuses mainly on Dungeness Crab and Salmon but also includes Ling Cod, Rock Fish, Halibut and Tuna. People come from all over to fish out of Trinidad Harbor and Pier.
History, a museum, a marine lab with a petting tank
History buffs can start by exploring Trinidad's deep Native American roots with the Yurok culture being centered around its coastal areas. Discovered by Spanish explorers in 1775, Trinidad became an American settlement in 1850 and a whaling town in the 1920s. The Trinidad Museum has a wonderful collection of artifacts and historic photos of the town.
This tiny town is also home to Humboldt State University's Marine Laboratory with several aquariums and displays of marine ecosystems —all open to the public.
Photo ops everywhere, fine dining, wine tasting and a casino
Trinidad's Memorial Lighthouse is the town's favorite viewpoint for breathtaking scenes of the harbor and coastline.
If you enjoy gambling, Cher-Ae Heights is located just 2 miles south of town.
If you simply enjoy great food and wine Trinidad has that, too, with a wine tasting room, organic café and some spectacular fine dining.
Yoga, a day spa, a market with gourmet and organic foods
For those just wanting to relax, there is a yoga studio and a Day Spa offering massage and facials.
Trinidad has a full service grocery store with plenty of organic food and local offerings.
Trinidad has something for everyone and Trinidad Retreats has the best selection of ocean view homes to offer during your stay here.
Come and Enjoy!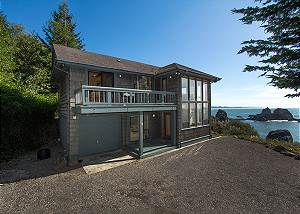 Beach House ~Panoramic Views, Private Beach, Special Location~
Beds: 3 Baths: 2 Sleeps: 8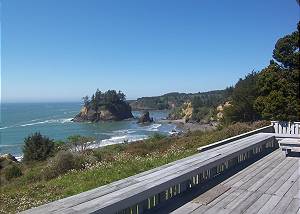 Trinidad Treasure~ In town & Private, State Beach Views!
Beds: 3 Baths: 2 Sleeps: 6